EUCHIPS EUT0802 Leading Edge Controller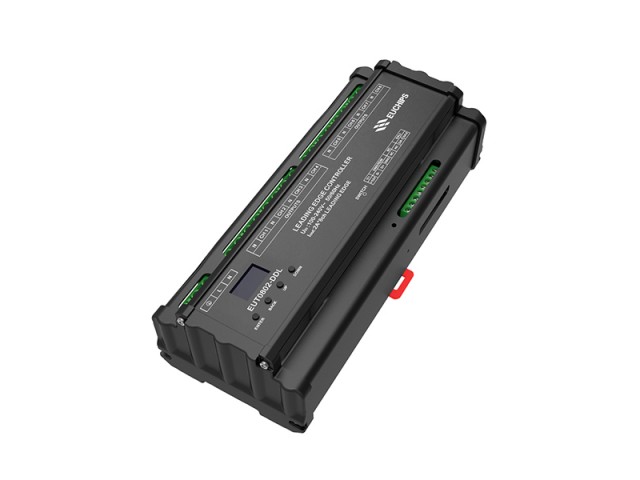 EUCHIPS EUT0802 Leading Edge Controller
Leading edge controller is a multi-function triac dimmer Control mode of EUT0802 is flexible, which complies with 4 control protocols:
1, support the international widely adopted DMX-512 (1990) /RDM and DALI standard protocol, and can access to KNX, Dynalite, Lutron, Crestron, LDS and other intelligent dimming network via gateway.
2, support EU-BUS lighting control protocol developed by EUCHIPS. It can be used with relay switch controller, clock module, panel module, sensor module to achieve the group and scene control through the Euchips9 PC software. This solution is widely used in the family, conference rooms, hotels, schools, and other occasions.
3, support Touchdim, manual control, timing control function (optional).The user can manually turn ON/OFF or dim the brightness.
Features1. Meets DMX512(1990)/RDM,DALI IEC62386 protocol, and EU-BUS protocol developed by EHCHIPS
2. With LCD display and manual button, the user can operate more conveniently
3. In the EU-BUS mode, you can remote update firmware through the EU-BUS interface
4. Output 8 channel phase cut or switch control, max current of each channel is 2A
5. 6.3A fuse delay protection for each 2 outputs
6. Output 12VDC,supply for control system
7. Set fade time of each channel separately, range of 0.1-10s
8. Standard 35 mm din rail, convenient installation
9. Can save up to 8 events(Only for EUT0802-DDLT)
10.suitable for use with TRIAC dimming driver, incandescent, low voltage, etc.